Hanis Irvine Prothero welcomes Jesus Lopez to the firm.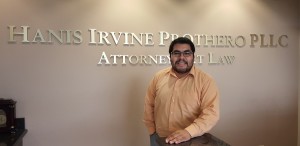 Jesus joined HIP on Monday, August 3rd as a Paralegal in our Immigration Department.  He will assist attorneys Cynthia Irvine, Florian Purganan and Mary Beth Sheehan.
Jesus has been in the legal field for over nine years.  He is a native Spanish speaker with a Bachelors of Arts in Spanish and a Minor in Diversity from The University of Washington.
Welcome to the team, Jesus.